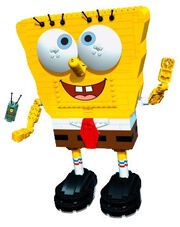 LegoBob es un personaje de la serie del mismo nombre, es el protagonista de LegoBob, es un personaje hecho de piezas de lego y a llegado a hacer amigos en su serie
Primera Aparición
Edit
Su primera aparición fue en el primer capitulo de su serie Canto Mortal en donde se muestra cantando YEAR 3000.
Personaje
Edit
LegoBob es muy amigable y no es muy malvado (Exceptuando el epìsodio El VerdeBob donde es el antagonista). Tiene muchos amigos, su primer amigo fue Burro, aunque con el primer personaje que interactuó fue con Los Chicos de la Patineta, su mayor enemigo es Skelto.
LegoBob es de color amarillo y es una parodia de Bob Esponja.
La historia de LegoBob ocurre en años pasados.
Bob Esponja vivía en Fondo de Bikini cuando Skelto y sus secuaces dominan la tierra, así pidiendo que para que cada tribu no muera, un regalo especial, pero un día, Bob Esponja no trae el regalo y Skelto casilo mata, pero Clay lo salva de la muerte y lo lleva al Hotel Denson, LegoBob no recuerda nada de su pasado, así que comienza una nueva vida.
LegoBob tuvo amigos a lo largo de la serie, los cuales son:
-Burro
-Dustin
-Mario Bros
-Pikáchu
-Bellota
-Clay
-Justin
-Malleo
-Yoshi rojo
-MamaYoshi
-Mamachu
Su personaje es sacado de Bob Esponja Pantalones Cuadrados.
Ad blocker interference detected!
Wikia is a free-to-use site that makes money from advertising. We have a modified experience for viewers using ad blockers

Wikia is not accessible if you've made further modifications. Remove the custom ad blocker rule(s) and the page will load as expected.